As an avid crocheter and designer, I love trying new yarns. Below are the brands and names of yarns I have used, projects I've used them for (free pattern included), and my HONEST review of each yarn.
All of the yarns I've tried below were purchased by me. This post is not sponsored in any way. You will see that I don't LOVE every type of yarn I have used.
This is not an inclusive list. I have tried many more yarns that I feel are popular and common to many people that don't need a review. If you are wondering about common yarns that I may not have listed, please ask in the comments below.
Affiliate links are included – I make a small commission if you purchase through my links at no extra cost to you. It helps me provide free content on my blog! 🙂
Lion Brand Yarns
24/7 Cotton
100% mercerized cotton
Okay, I had no idea what mercerized cotton is when I got this yarn. It sounds fancy so I figured it had to be good. I looked it up and basically the cotton is treated with something to make it more durable and allows the dye to absorb the yarn better. Also, according to Google, that means it is also a bit less absorbent than plain old 100% cotton.
Did this stop me from making dishcloths with it? Nope. Working with this yarn was fantastic! I made a set of Watermelon Themed Dishcloths that you can find here.
The colors are so vibrant and beautiful and there is also a shine to this yarn that just gives it a little something extra. They have so many colors to choose from – pretty neutrals as well as bright colors!
Dare I say it's my new favorite cotton yarn? I'm tempted to if the price tag was a bit less.
Compared to I Love This Cotton! from Hobby Lobby? It's not as soft but does have the beautiful shine to it and truly is nice to work with. It also has great stitch definition which I think I Love This Cotton! lacks just a bit.
100% recommend this yarn. Get some here on the Lion Brand website.
Beautiful You
100% acrylic, Category 2/Fine
I'm not going to lie, I was a bit hesitant about this yarn when I received it in the mail. It feels as textured as it looks. The only way I can describe it is it feels like a thin necklace chain.. but yarn.
I'm happy to say this yarn is a real winner in my book. The drape is like no other! I used a 5.00mm hook to crochet a cardigan (the pattern will be releasing soon!) and it's so beautiful.
I would definitely use this yarn for garments to layer up in. It doesn't create a fabric you want to snuggle up in like a big fluffy sweater, but is amazing for spring/summer layering.
Conclusion? I totally recommend this yarn if you are looking for a great yarn for garment making!
Get some here on the Lion Brand website.
Crayola
100% acrylic, Category 4 worsted
When I saw these cakes, I had to have them! The colors look gorgeous and I love a cake style/self striping type of yarn!
When I worked up this yarn, it was soft and felt good to work with. It is a gradient/ombre style of yarn which is so pretty!
One thing I wish was different was the yardage. It has roughly 170yds per skein. I can't think of anything to use it for except hats.
Since the cake is fairly small, that means each 'block' of color is not very big. I think making anything bigger than a hat would not give it that ombre/gradient effect, rather just chunks of color especially if you were to make a blanket.
Flikka
50% cotton/ 50% acrylic blend, Category 3/Light
I enjoyed working with this yarn so much. It's soft to work with and doesn't split. I love that throughout the yarn there is a cream piece of the yarn that runs throughout the colors and ties it together.
I initially wished there were just solids for this yarn because I enjoyed working with it and I think would be a great yarn for garments. Many have informed me that the Comfy Cotton Blend yarn from Lion Brand is the exact yarn but in cake form (with more yardage) AND is available in more colorways and a pretty cream solid color!
I made this Cross Body Circle Bag with it and it's perfect. Only used one skein. About a month in, the yarn is rubbing and pilling but I think that's to be expected with any crochet item over time. It's my daily purse and with the frequency of it's use, I'm happy with how it's holding up!
Get some Flikka yarn here or Comfy Cotton yarn here.
Heartland
100% acrylic, Category 4/Worsted
This worsted weight acrylic yarn is so beautiful and enjoyable to work with. It has a very pretty sheen to it and almost has a subtle marbled effect within the yarn if you look closely which is gorgeous.
I made this Heartland Cardi with the yarn and it's held up nicely over the years. I don't wear it on the daily but I have washed it twice and it looks as good as ever.
I love the earthy tones that the yarn has to offer and it's definitely one of my favorite worsted weight yarns to work with!
Grab some Heartland yarn here.
Re-Up
85% cotton, 15% polyester, Category 4/worsted
One thing I like about this yarn is that it has that raw cotton feel, but it doesn't hurt your hands to work with it. Although it is categorized as a medium 4, I do feel it is a bit on the thinner side.
I personally would only use this yarn for dishcloths, baskets, or bags. I almost wish it had a nice soft shine to it because of it being a thinner worsted weight yarn (if that even makes sense) because the weight would make a great yarn for a garment but the feel.. not so much.
Lastly, you can get these at a great price! I've seen them at Walmart for $1.49 and Michael's for $2. Great price and quality.
I made a few dishcloths with this yarn and also a tote bag. You can find the free pattern for the bag here.
Grab some Re-Up yarn for your next project here!
Knit Picks
Brava Sport
100% acrylic, Category 2
When I realized it was better to make garments with lighter weight yarns, I sought out a soft acrylic yarn that would be washable. I found this light weight acrylic yarn from another crochet designer and I'm so glad I did!
I made this cardigan shrug with it, and man does it make a difference to use a lightweight yarn versus a worsted yarn! Although there are a ton of stitches in this pattern, it's completely wearable and doesn't weigh me down.
A tiny downfall (for me) is that it is not a center pull and if you force it to become a center pull.. expect a mess! Once I got to the end of my skein, I did end up having to wind them up into cakes or else it would be tangled and messy.
Even so, I bought some more in different colors for future garment patterns. I think this will be a favorite for me when it comes to garment making!
Grab some Brava Sport yarn here.
Dishie
100% cotton, Category 4 worsted weight
I'm a big fan of this dishie yarn! As the name hints, it's great for dishcloths. It has a nice raw cotton feel but it does not hurt your hands to work with!
The colors are pretty and vibrant and the color/dye does not bleed onto your hands when working with them. I've had this happen to me with some vibrant colored Lily Sugar n' Cream yarns!
The nice thing is the color holds up well in the wash as well. I have made a dog mat and dishcloth with these last year and the color has still held up surprisingly well after repeated washings!
You can buy some Dishie yarn here.
PaintBox Yarns
Paint Box Simply Aran
100% acrylic, Category 4/worsted
Yes. Buy it. Haha!
Okay, but seriously.. This yarn is amazing. They come in skeins that look similar to Lion Brand's Vanna's Choice, but oh so soft! And the color choices are fantastic.
I've never received a "bad" skein (knots, clumps, splits, etc). I'm always amazed at how soft it is every time I pick it up and use it again and I can happily crochet away without it irritating my hands.
I used this yarn for smaller projects in the past and used it for the Dinosaur Themed Blanket. It was a crochet along and so many people used it for the first time and loved it!
Target Yarn
Handemade Modern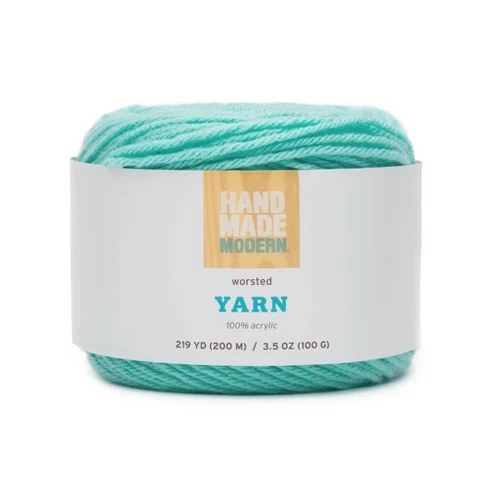 100% acrylic, Category 4/worsted
Target recently came out with some yarn and I was pumped to try it! They come in a cake style and has a great center pull – yes!
..but don't get to excited. That's about all that is good about this yarn (in my opinion). Unfortunately, I was not impressed with this yarn.
I would not use it again even if I was given some for free. Is that harsh to say? I really don't think I'm a yarn snob.
When it comes down to it, the downfall for this yarn is the inconsistency of the softness (or should I say roughness) in the different colors. I purchased 4 different colors – one was rough, one was not as rough, and the other two were okay.
I made a blanket that came out beautifully (check out the pattern here) but my hands were not happy once the blanket was done.
For the price, it's not worth it! Save your money and try PaintBox yarns from LoveCrochet.com or I Love This Yarn! from Hobby Lobby. Both are fantastic quality yarns and my two favorite worsted weight yarns to make blankets with.